| | |
| --- | --- |
| | UNIQUE ANTI-CORROSION COMPOSITION FOR PAINTED AND UNCOLORED METALS "M10" |

HYDROEFFECT M10 - high-adhesive composition on an organic solvent on silicon dioxide, designed to protect metal products from corrosion. Also M10 simultaneously acts as an inhibitor.
Provides: protection from wetting, resistance to aggressive media, has an anti-corrosion effect because it creates a hydrophobic membrane, chemically bound to a metal surface.
In addition to the main effect – protection from wetting and a dramatic increasing in the corrosion resistance and frost resistance of metal surfaces, such hydrophobization helps to increase the strength properties of metal surfaces and paintwork materials. This is due to the fact that in the polymerization process the composition acts as an additional agent, strengthening the structure of the treated material. Despite the uniquely small thickness, the hydrophobic membrane is firmly held on the treated surface, allowing the hydrophobic coating serves for years, eliminating the need for intermediate repair of metal surfaces.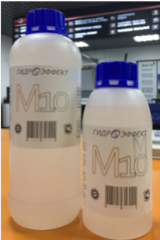 Timely and properly carried out hydrophobization of metal surfaces significantly increases their service life and allows you to save money and consumables, paintwork materials on current and intermediate repairs of metal products, especially those, which exposed to moisture and "atmospheric" acids.
Technical characteristics of M10:
Layer thickness after 1-fold deposition - 15 microns (after 12 hours of polymerization);
Wetting angle - 115 o;
Frost resistance - not less than 100 cycles;
Consumption - 50 grams per square meter;
Temperature resistance -60 – +600 oС;
After drying, resistant to acids, alkalis, mechanical stress;
Non-toxic;
Working composition is flammable.
Mode of application:
The composition is applied to a clean, dry, degreased surface by spraying, brush, roller, dipping the product at an ambient temperature of -10 to + 50 oС.
The room should be well ventilated.
Remember to take precautions when handling flammable substances.
Wear gloves and a respirator when working.
Benefits:
Polymerization rate.
The ratio of price/quality.
Ease of use.
Areas of use: