| | |
| --- | --- |
| | Efflorescence (salt stains) cleaner «UMAS-STOP» |
Universal, concentrated, emulsion agent for cleaning efflorescence from various surfaces by manual and mechanized methods. Concentrate, which is a mixture of acids with the addition of surfactants, active additives and phosphates for food purposes. All active ingredients remain in solution in the form of microscopic droplets. This state allows to achieve unique technological and economic advantages.
Effective for: brick, ceramic brick, plaster, artificial and natural stone, concrete, paving slabs, marble, granite, finishing stone, etc. It doesn't change the appearance of the material and doesn't violate its structure.
Together with the cleaner from the efflorescences, we supply a special solution to remove residual cleaner from the treated surface.
The product consists of two solutions:
1. Cleaner from efflorescence "UMAS-STOP"
2. The preparation, which allows you to remove residual cleaner after surface treatment.
Benefits:
The high washing and demulsifying ability without use of harmful components. Eco-friendly solution, certified by international environmental standards Green Seal GS-34 & GS-37;
The product doesn't contain free alkalis and other aggressive components;
No dyes, fragrances and strong odor;
Soft impact on all types of bricks and tiles;
Removal of all types of efflorescence (salt stans);
No traces after drying;
Quick cleaning - 5-10 minutes.
Easy to wash off.
Before using the composition, it is desirable to clean the surface from ordinary dirt, which allows to reach bigger profitability of use of the chosen cleaner.
Work carried out in dry conditions at temperatures not below 0 °C on a dry surface. The cleaner is diluted with water in a ratio of from 1 to 2-5 (depending on the amount of efflorescence on the treated surface).
Prevents dirt redeposition on the cleared surface.
To protect the facades from atmospheric moisture and related repeated efflorescence, in one day after drying, it is recommended to carry out surface treatment with the hydropolyzing compound "Hydroeffect" in accordance with the instructions for working with these material.
Specifications:
Appearance: homogeneous colorless liquid
Density at 20 °С, g/cm3, not less: 1,01.
Concentration pH level: 9.5 +/- 0.5.
Storage:
Store in original packaging or in specially authorized containers, protect from heat sources. For more information, see the safety data sheet. Warranty period of storage – 1 year.
Packing:
Canisters 5l, 20l, 30l.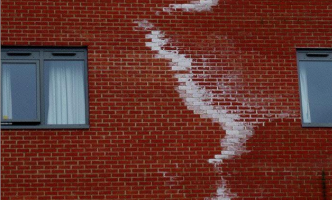 Because the product is concentrated, and 1 liter is enough for processing up to 5 sq. m., processing cost per sq.m. is lower than other similar means.
Security measures:/h1>
During work it is necessary to use safety glasses, rubber gloves. In case of contact with eyes, rinse with water. Keep away from children and animals. Avoid contact with uncultivated surfaces, which can be destroyed by the action of dilute acids (plastic, metal, etc.), as well as plants.